SWEGWAYFUN : UK TOP RATED & UL2272 CERTIFIED
When it comes to performance, the Ninebot Electric Gokart seeks for vehicle benchmarks beyond gokarts
HANDBRAKE & DRIFTING

The Ninebot Electric Gokart is the first gokart in the karting history that is
made to drift with an equipped handbrake




DESIGNED TO FIT MOST RIDERS

The Ninebot Electric Gokart was designed with an adjustable frame and steering wheel to fit riders between 4' 5" to 6' 3" (130 cm - 190 cm)




ITS ENDLESS FUN

The Ninebot Electric Gokart comes with three driving modes for riders to choose based on their expertise
6 GREAT REASONS TO BUY FROM US
Description
UL/Safety
Reviews
Shipping
Return
PREORDER FOR DELIVERY AFTER 21/10/2019
The next generation of Gokart is finally here!! Also check out The Bolt Gokart by clicking HERE
GO KART COMPARISON CHART
| | | |
| --- | --- | --- |
| FEATURES | Ninebot Gokart Kit | Bolt Gokart Kit |
| | | |
| Price  | £1299.99 | £759.99 |
| Available colour | White | White , Black , Pink , Red , Blue |
| Adjustable  |  YES : Steering wheel & Seat |  YES : Steering wheel & Seat |
| Length x Width | After extension (Max status): 54×32×24 in (1383×822×600 mm); before extension (Min status): 40×32×18 in (1004×822×459 mm) | After extension (Max status): 54×32×24 in (1383×822×600 mm); before extension (Min status): 40×32×18 in (1004×822×459 mm) |
| Max Weight | 100 kg | 120 kg |
| Bluetooth Speaker for music | | |
| APP | YES | YES |
| Power | 320W | 400W |
| Maximum Speed | 15 mph (24km/h) | 20 miles (32 km/h) |
| Maximum Range | 10 miles  | 15 miles |
| Max. Climbing Angle | 15o | 15o |
| Charging Time | 4 hours | 4 hours |
| Recommended age | 8+ | 8+ |
| Steering ratio | 2.1:1 | 2.1:1 |
| Ground clearance | 1.6 in (40 mm) | 1.6 in (40 mm) |
| Traversable Terrain | Hardened road, flat road surface, slopes below 15° | Hardened road, flat road surface, slopes below 15° |
| IP rating | IPX4 | IPX4 |
| Dual Motor | YES (400Wx2) | YES (800Wx2) |
| Headlight | YES | YES |
| Braking method | Electronic brake + mechanical handbrake | Electronic brake + mechanical handbrake |
| Warranty | 1 year waranty | 2 year waranty |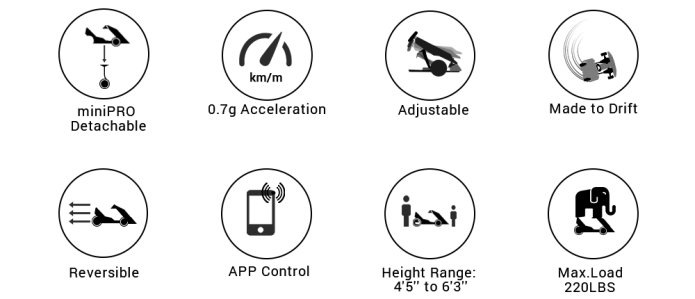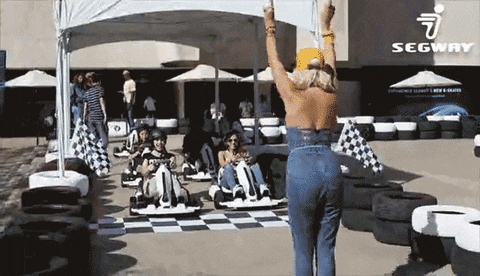 Be ready to experience the coolest Electric Gokart ever with innovated technology, a drifting machine with 2 motors( Max.800w), accelerates from 0-12 mph within 2 seconds.

Why have just one fun product to ride when you can have two? Instead of creating an electric gokart from scratch, we've designed the Ninebot Gokart Kit to work with the Ninebot by Segway miniPRO. Attach your miniPRO to work as the gokart's motor, or detach it and ride it hands-free.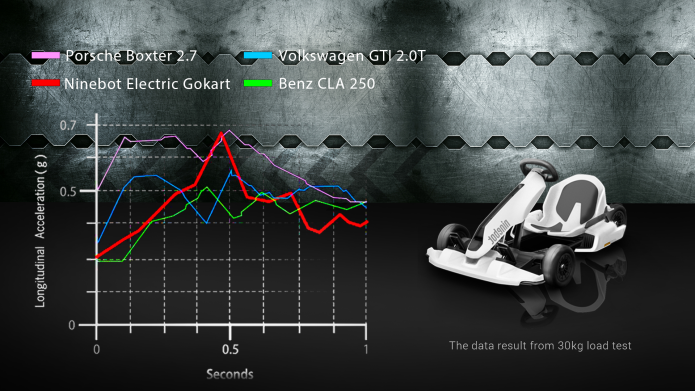 When it comes to performance, the Ninebot Electric Gokart seeks for vehicle benchmarks beyond gokarts. The Gokart can sprint from 0 to 12mph within seconds, which matches or even outpaces the acceleration of many automobiles on the market that is well known for their outstanding performance. 

The Ninebot Electric Gokart features a mechanical handbrake. In the unlikely event that the electric brake fails, the handbrake can be used to stop the vehicle abruptly.
The handbrake is much more than a mere braking alternative to the foot brake. The Ninebot Electric Gokart is the first gokart in the karting history that is made to drift with an equipped handbrake. Once they get familiarized with riding the Gokart, riders can challenge themselves with the drifting tail by making use of the handbrake.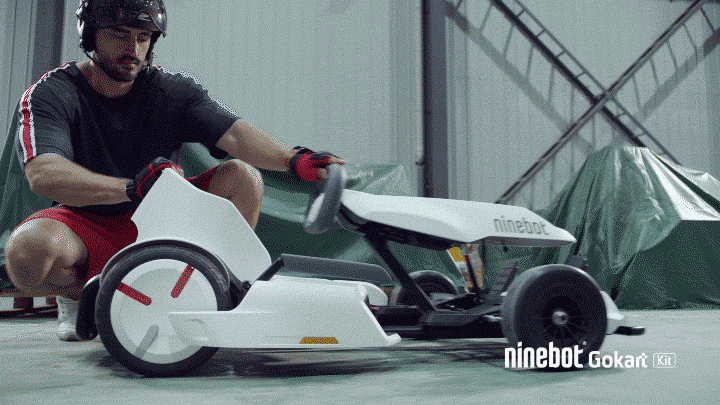 The Ninebot Electric Gokart was designed with an adjustbale frame and steering wheel to fit riders between 4' 5" to 6' 3" (130 cm - 190 cm). The Gokart has a maximum payload of 220 pounds (100 kg).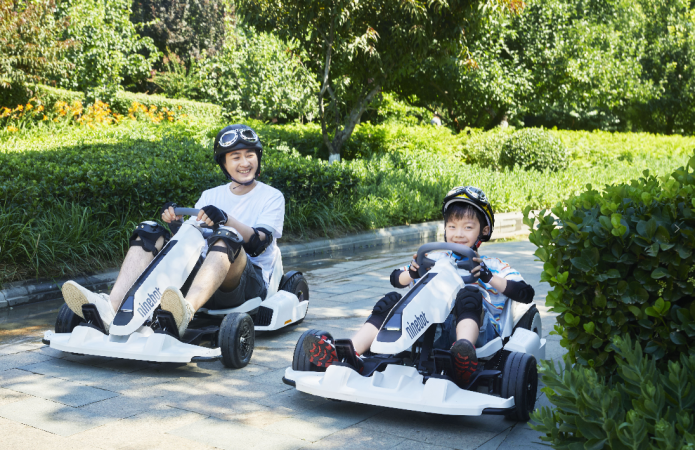 The adjustable frame makes the Ninebot Electric Gokart suitable and playable for people of different ages. You can create memorable experiences by driving the Gokart alongside with your family.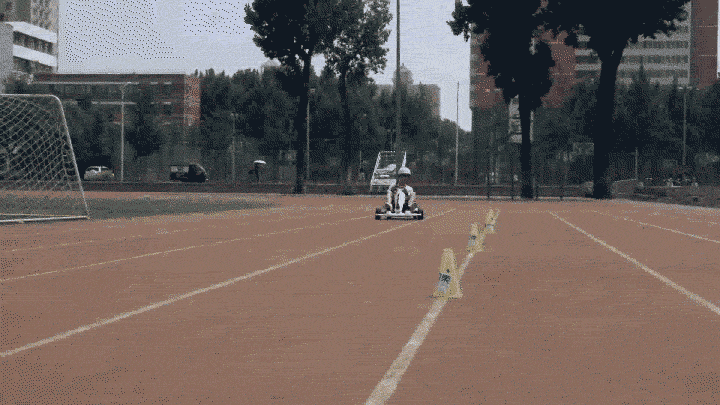 The Ninebot Electric Gokart has a steering ratio of 2.1:1, allowing for precision steering and the ability to make the very tight turns.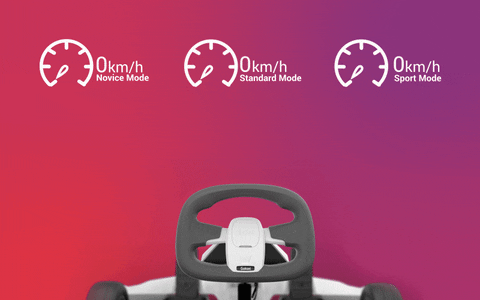 The Ninebot Electric Gokart comes with three driving modes for riders to choose based on their expertise. Novice mode has a top speed of 5 MPH (8 km/h), the Standard mode has a top speed of 10.8 MPH (18 km/h), and Sport mode has a top speed of 15 MPH (24 km/h).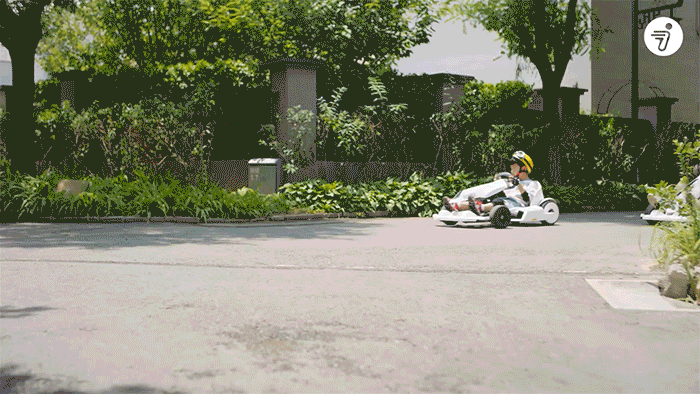 Since the Ninebot Gokart has been designed for both children and adults, we want to make sure its being driven at a safe speed for everyone. Parents have the ability to limit the top speed of the Gokart for child riders.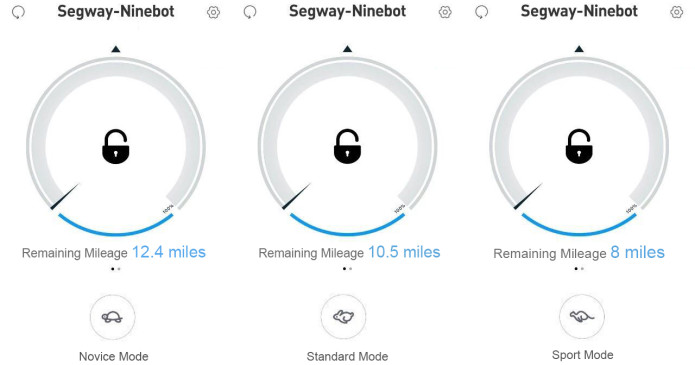 The battery life of the Ninebot Electric Gokart varies across the different driving modes, with a maximum range of 12.4 miles (20 km). It takes about 3.5 hours to fully charge the battery.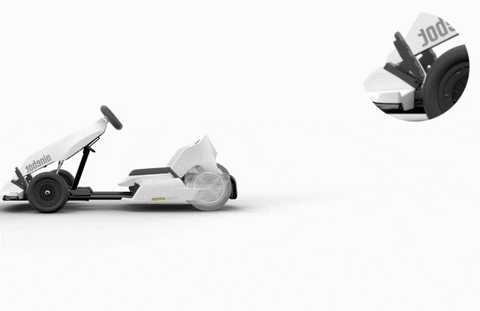 Unlike most gokarts, the Ninebot Electric Gokart comes equipped with the ability to go in reverse. Once at a complete stop, quickly tap the brake pedal twice and the gokart is now in reverse. When stopped, tap it twice again to go back to forward.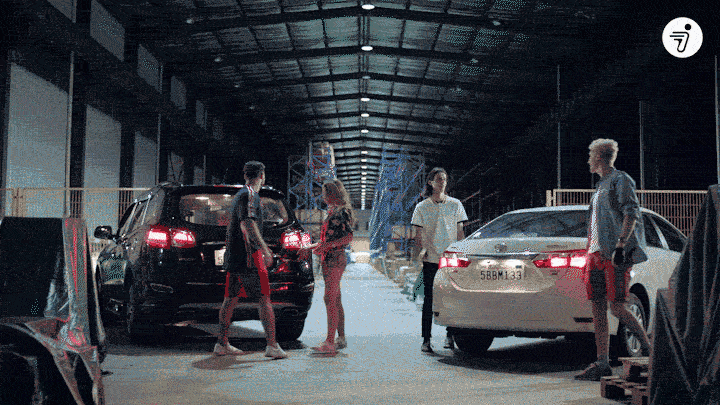 The Ninebot Electric Gokart is collapsible to fit in most trunks, allowing you to take it wherever you want to go.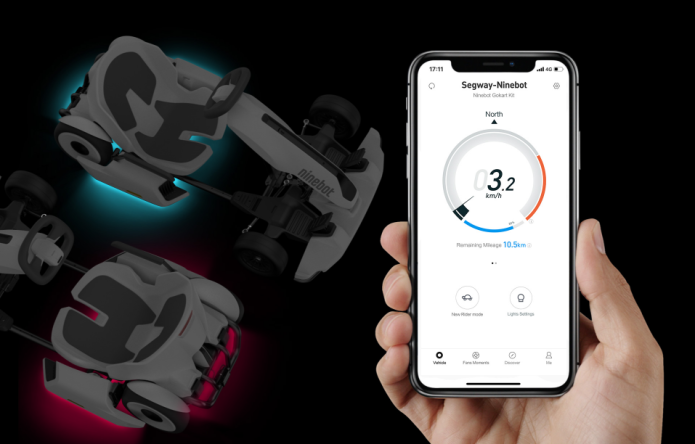 Connect your Gokart to the app via Bluetooth to display driving speed, cruising range, and fault reminders of the Gokart in real-time. You can also access the new rider tutorial, control lighting, set driving modes, update firmware, and more.

 With our commitment to product development and manufacturing, every aspect of the Ninebot Gokart was meticulously designed and developed to ensure a high-quality product.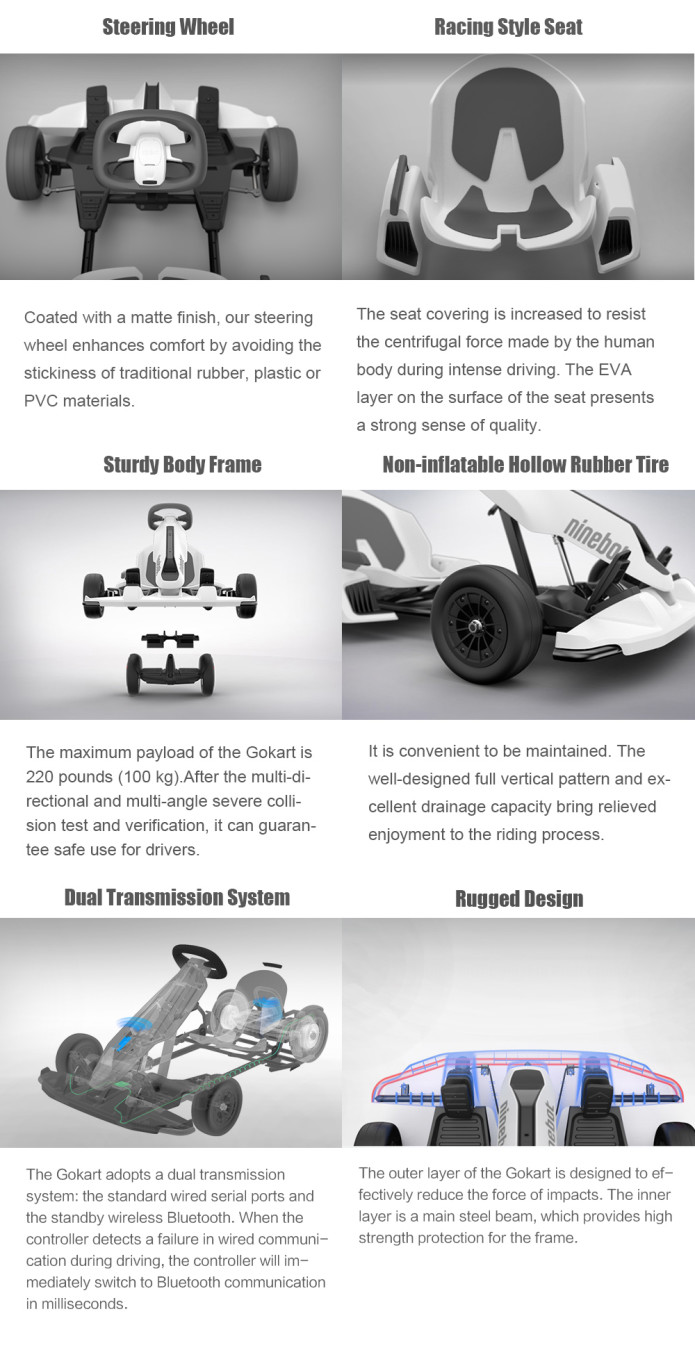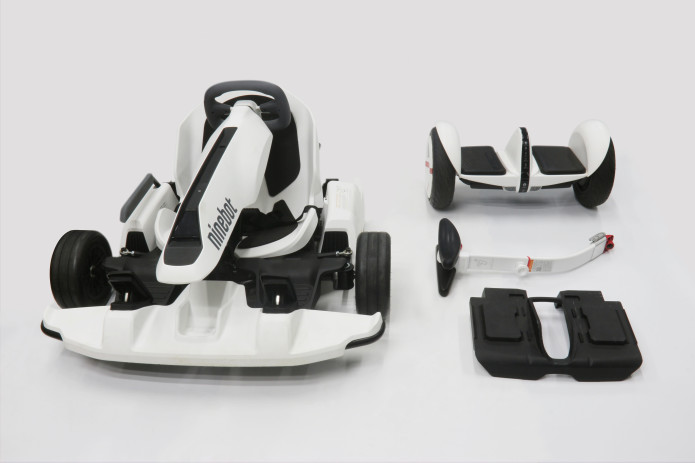 The Ninebot Electric Gokart Bundle comes with the Gokart Kit and a miniPRO320. The Gokart Kit contains a steering wheel, seat, front bumper, and front wheels. The Gokart Kit is fitted over the miniPRO320, which functions as the rear wheels and powertrain for the Gokart.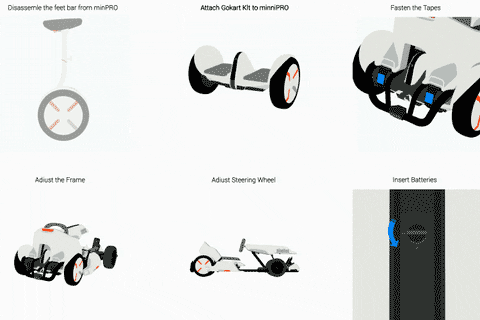 Easily retrofit your miniPRO with the Gokart Kit: disassemble the knee control bar on the miniPRO; attach the Gokart Kit to the miniPRO; adjust the frame; adjust the steering wheels; insert batteries.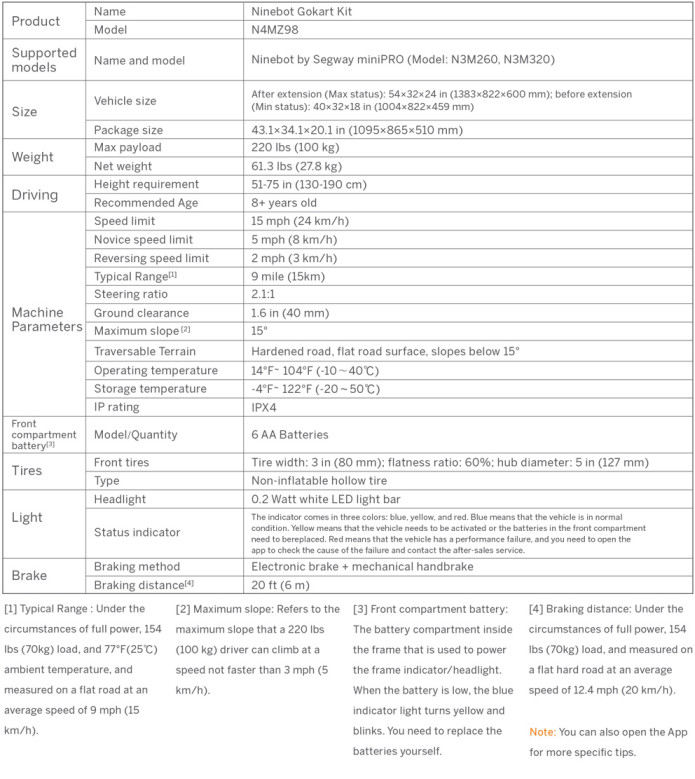 What does it mean to be UL Listed?
" UL Listed means that UL has tested represented samples of the product and determined that it meets UL's Requirements. These requirements are based primarily on UL's published and nationally recognized Standard for Safety. References to UL and the UL listing may include the UL Listing Mark." –Underwriter Laboratories
Tests SwegwayFun's Hoverboard went Through
Overcharge Test
Short Circuit Test
Over discharge Test
Temperature Test (Determines the failure temperature of a product.)
Imbalanced Charging Test
Dielectric Voltage Test
Isolation Resistance Test (Testing Isolation Transformer.)
Vibration Test
Shock Test
Crash Test
Drop Test
Mold Stress Test
Water Exposer Test
Thermal Cycling Test (Testing the effects of extreme differential temperature change.)
Label Performance Test (Comparing products against other leading brands.)
Strain Relief Tests
Motor Overload Test
Motor Locked Rotor
20mm End Product Flame (Test that determines flame resistance.)
About UL
UL is an international science safety company whose goal is to insure safety to consumer's products. UL was founded in 1894 and in 1903 developed the first standard for safety. In 1913 changed building construction by improving construction standards of walls. In 1921 UL Certified First Refrigerator. Tests range from shock hazard to the ability of small kids being able to open it from the inside. In 1923 UL certified the first Burglary-resistant Safe. 1930 UL certified the first Automatic Dish Washer. 1937 UL certifies the first washing machine. 1939 UL certified the first black and white TV. 1940 UL certifies the first vending machine. 1966 UL certified the first seat belt. In 1975 UL developed the Federal Television Standard in response to 10,000 reports of TV Tube fires. 1978 UL certified the first personal computer. In 1988 UL certified the first bullet resistant vest for police.(*** This data was found on the UL website, http://www.ul.com/aboutul/history/***)
UK Delivery - Our FREE UK Next Working Day Delivery Offer
All our e-rideables ( Hoverboards , Kickscooters , electric bikes & ride on cars )  are sent out with next working day delivery as standard. Delivery is free for orders over £100 or £4.99 for orders below £100.
Deliveries are made Monday to Friday.
If you order before 2pm – Monday to Thursday, your e-rideable order will be dispatched same-day and you will receive it the next business day. Orders placed on Friday to Sunday, will be dispatched Monday, delivered to you on Tuesday.
Please note, we do not dispatch orders on the weekend.
Please be aware that Next Day Working Delivery is NOT guaranteed to the following destinations: Scottish Highlands, Northern Island, Channel / Offshore Islands. They will be delivered within two-business days.
Saturday / Sunday Delivery 
If it's more convenient for you to receive your scooter at the weekend, we now offer Saturday & Sunday delivery for £15. If you order your E-rideable before 2PM on Friday, and select  Saturday or Sunday Delivery at checkout, you will receive your order the following Saturday or Sunday. Saturday & Sunday  Delivery is currently only available in the UK. 
Signed for deliveries
All E-rideable orders are sent via a courier of our choice, and we may change the couriers we use without notice, although the level of service will always be equivalent. All  deliveries will need to be signed for, whether yourself, household member or a neighbour.
Failed deliveries
If you are away from the delivery address and a neighbour cannot sign for your delivery, then our courier will put a card through your door allowing you to re-book a delivery with the courier or allow you to pick up the order from the depot.
The e-rideable will be returned to Swegwayfun if the courier unsuccessfully attempts to deliver the order to you on 3 occasions.
Swegwayfun reserves the right to charge the full shipping fee applicable to resend if the item is returned to us because the customer could not take delivery for any reason.
Courier returned items will be added back into our stock and your account credited with the order total, minus the fee the courier charges us to deliver the item back to us. You will have to replace the order to have the item re-shipped.
If a customer inputs any incorrect address details on their order, which causes the parcel to be delivered incorrectly, we cannot be held responsible for this parcel, i.e. the customer will have to try to retrieve the parcel themselves, at their cost.
Original box and packaging
Please keep hold of your original box and packaging for at least 30-days, in the event you need to return the product to us.
We cannot accept any  returns without all original packaging and accessories, including the retail box, manuals, cables, charger and all other items originally included with it. If necessary, we can provide a new box at a cost of £25. So please keep the  box safe.
International Ordering & Delivery
We currently only ship within Europe on a 3 - 5 working Days service . 
Cancelling Your Order
If you change your mind after placing an order and your goods have not yet shipped, you may be able to cancel your order. Please email us immediately at info@segwayfun.uk, quoting your order number and stating your wish to cancel your order.
If you have already received your order, you will need to return all the items in the order, please read the below section titled "Returns - Changed Your Mind".
PLEASE CLICK HERE TO DOWNLOAD RETURM FORM
Returns - Damaged & Faulty 
If you have received an item that is damaged, is not what you ordered, or is missing parts, then please email us immediately at info@segwayfun.uk
.
Include photographs of the issue before returning any goods so we can discuss the best action to take.

Faulty electric scooter - within 14-days of receiving
If your electric scooter develops a manufacturing fault through normal use (as outlined in the manufacturer's manual) within 14-days of receiving the goods, then please email us at info@segwayfun.uk, quoting your order number, attaching a photo of the electric scooter and the fault details. You can let us know whether you want a refund, repair or replacement. We will arrange collection and cover the costs for collecting, repairing and returning the electric scooter to you.
Faulty electric scooter - after 14-days of receiving
If your scooter develops a fault after the initial 14 days period you will need to contact the manufacture and make a warranty claim. Please note the warranty period will vary by scooter.
If you cannot find warranty information please get in touch and we will point you in the right direction.
Please note that, we cannot accept electric scooter returns:
without all original packaging and accessories, including the retail box, manuals, cables, charger and all other items originally included with it (we can provide a new box at a cost of £25).
if the electric scooter has been damaged through miss-use or shows signs of being tampered, customised, or altered in any way.
is in any condition that we deem renders the item unsaleable.
All electric scooters purchased directly from our website will fall under our full warranty policy. We offer 12-month warranty as standard and full refunds or replacement if your item arrives unusable or defective. Warranty covers internal computerised part of the board, namely the microchips/motherboard. Battery, Bluetooth and LED lights are NOT covered.
All faults must be reported within 48 hours of receipt of product for repair or exchange. Any faults reported after 48 hours of delivery confirmation will need to be inspected by our technicians before a decision on warranty claim can be made. This can take up to 10 working days.
NOTE: WARRANTY DOES NOT COVER WATER OR CRASH DAMAGE. If the exterior of your electric scooter is damaged or the internal seals are broken your warranty is void. We can quickly and easily see where an electric scooter has been crashed due to scratches on the body of the scooter. Crash or accidental damage isn't covered under warranty repairs. You will be liable to pay the shipping costs to return your electric scooter back to us if the damage isn't covered under warranty. This total cost is £17.98. We will quote for repair costs once our technicians have conducted diagnostics on your electric scooter.
If the electric scooter comes back to us reported faulty and it just needs recalibrating, you will be liable for postage both ways at least but not limited to £19.99.
Returns - Changed Your Mind
If you change your mind about your electric scooter and you no longer want it, then you will need to email us at info@segwayfun.uk within 14 days of receiving your order. You then have a further 14 days from the date you notified us, to return the goods to us. Restocking fee may apply.

When you contact us about your returns, you will need to provide us with your order number, reason for returning and a contact telephone, in the event we need to call you.

Please note that we may make a deduction from the refund amount for the loss of value of any good supplied if the loss is the result of unnecessary handling by you.  You can examine the goods as you would in a shop but to obtain a full refund, the goods must be returned in "as new" condition and in their original packaging.  If you have mislaid the original packaging for an electric scooter, we can provide a new box at a cost of £25.

Naturally, none of this affects your statutory consumer rights.

You will need to return the electric scooter to us at:
SWEGWAYFUN RETURN DEPT 
C14 LION BUSINESS PARK 
DERING WAY
GRAVESEND
DA12 2DN

Return in person
Please let us know via email ( info@segwayfun.uk) if you intend to return the electric scooter in person, so we can agree a time / date and are ready for the collection. Please bring with you your order number. We cannot accept returns in person unless agreed prior with our customer service team.

Customer returns via post
You will be responsible for paying for your own delivery costs for returning an unwanted item, unless it has a manufacturer fault (see above section - "Returns - Damaged & Faulty").
It is strongly advisable, when returning an unwanted electric scooter to use tracked delivery to ensure its arrival. Please make sure you include in the box a copy of your name and order number, so we know who it was from.

Collection from your address
Please email us at info@segwayfun.uk with the following details to arrange a collection:
Your full name and collection address including postcode
Order number and confirmation of which product is coming back to us
Your preferred date of collection (Monday to Friday only)
A contact number in case the driver needs to get in touch
There is a £17.99 charge for this collection service that will need to be paid at the time of booking the collection. Please note, we cannot accept electric scooter returns without all original packaging and accessories, including the retail box, manuals, cables, charger and all other items originally included with it.
We can provide a new box at a cost of £25. Any extra costs (e.g. new box, collection cost) will be deducted from your refund payment amount.

Refund payment
We will refund you to your original payment method (i.e, card, Paypal account etc) within 14 days of receipt at our Returns Centre. Please be aware this can take up to 5 days depending on your bank.
MEDIA AND PRESS
The segwayfun Hoverboard has been featured by many TV shows, news outlets, magazines, and blogs.