segwayfun Hoverboard: Top Rated & UL2272 Certified
UL / Safety
Description
User Manual
Reviews
UL / Safety
What does it mean to be UL Listed?
" UL Listed means that UL has tested represented samples of the product and determined that it meets UL's Requirements. These requirements are based primarily on UL's published and nationally recognized Standard for Safety. References to UL and the UL listing may include the UL Listing Mark." –Underwriter Laboratories
Tests SwegwayFun's Hoverboard went Through
Overcharge Test
Short Circuit Test
Over discharge Test
Temperature Test (Determines the failure temperature of a product.)
Imbalanced Charging Test
Dielectric Voltage Test
Isolation Resistance Test (Testing Isolation Transformer.)
Vibration Test
Shock Test
Crash Test
Drop Test
Mold Stress Test
Water Exposer Test
Thermal Cycling Test (Testing the effects of extreme differential temperature change.)
Label Performance Test (Comparing products against other leading brands.)
Strain Relief Tests
Motor Overload Test
Motor Locked Rotor
20mm End Product Flame (Test that determines flame resistance.)
About UL
UL is an international science safety company whose goal is to insure safety to consumer's products. UL was founded in 1894 and in 1903 developed the first standard for safety. In 1913 changed building construction by improving construction standards of walls. In 1921 UL Certified First Refrigerator. Tests range from shock hazard to the ability of small kids being able to open it from the inside. In 1923 UL certified the first Burglary-resistant Safe. 1930 UL certified the first Automatic Dish Washer. 1937 UL certifies the first washing machine. 1939 UL certified the first black and white TV. 1940 UL certifies the first vending machine. 1966 UL certified the first seat belt. In 1975 UL developed the Federal Television Standard in response to 10,000 reports of TV Tube fires. 1978 UL certified the first personal computer. In 1988 UL certified the first bullet resistant vest for police.(*** This data was found on the UL website, http://www.ul.com/aboutul/history/***)
Description
INTRODUCING THE NEW RELEASE FROM NINEBOT BY SEGWAY: 
THE XIAOMI MINI PLUS WITH REMOTE CONTROL 


The following text outlines all the amazing features and capabilities of the Mini Plus....to access a lot of these you need a Mobile Device that has Bluetooth 4.0 and over. For instance you need to run through a tutorial, this needs to be done via the APP to unlock the top speed on the Mini Plus.
Step on a Mini Plus without further ado and feel the speed of wind and experience the magic of technology! 
This amazing robot automatically keeps you balanced and reads your movements. Want to go forward? Just lean forward. The high-performance, cutting-edge control algorithm works in tandem with various sensors and advanced processors for maximum flexibility and ease of use. 
Mini Plus can cope easily with all normal road conditions, and will take you up to 35 km* on a journey of fun. 
Go wherever you want whenever you want. 
Explore the wonder of Mini Plus. Let's look for the next fast, fun ride! 
Not only is it four times faster than walking, the Mini Plus is also super stable due to its dynamic balance function - even a 15˚ steep slope or small hump is no problem. 
The advanced configuration yields a powerful engine and a smooth riding experience. 
With the two direct-drive motors generate a total output power of 800 W and an instantaneous power above 2,000 W – almost the same as an electric motorcycle. 
Your phone: the key and your smart assistant manager 
Mini Plus connects to your phone by Bluetooth or The remote controller
Your phone serves as a key - any attempt to move an app-locked Mini Plus triggers shaking, an audible alarm, and an alert that's sent to your phone. 
Basic Information
Product Name: Xiaomi Ninebot PLUS
Product size :about 57.7 cm * 28 cm * 62cm
Model: N4M340
Weight :16kg
Frame Material :Magnesium Alloy highly-elastic frame
Tire size :11 inches
Motor size :6 inches
Battery:42*18650
Max lean angle: >15 degrees
Charging Voltage:Less than 58.8VDC
Top speed: 18 km/h
Typical range: 35 miles
Charging Time: 5.5 Hours
Max Following Speed:12 KM/H
Vacuum Tire: Good grip, Water proof
Woking Temperature:-10℃ - 40℃
Available Working Temperature:0℃ - 40℃
Dynamic Performance:
Maximum speed :18 KM/H
Maximum torque :37Nm * 2
Motor Power :400W x 2
Instantaneous Maximum Power :2500W
Controller
Charging time:Appro 3.5 Hours
Woking time:Appro 9 Hours
Battery capacity:680mah
Working Current:70mA in Average
Charging Voltage:5V
Charing Method:Lithium + USB Charging
Weight :60 G
MAX control Distance:20m
MAX control Speed:12KM/H
Vehicle mode
Riding mode: Riding Scooter
Remote control mode: remote control Scooter
Following Mode: can only be used with the remote control
Pan/ Tilt Camera mode :default / follow / direction lock
Home mode :press the Home button to allow the Scooter to Switch to standby.
Handling mode :When lifting the Scooter, will automatically cut off the power,will automatically resume when it back to the ground.
Power mode :self-balancing state.
Novice mode :the Scooter will impose a speed limit of less than 4km / h before you Before Activated it ; the speed limit will be less than 10km / h after you Activated it; you can just unlock the novice mode after pass the exam as ninebot plus request . you can re-enter this model by app.
Speed mode
1) click speed limit button by app
2) low battery self-protection: it will gradually reduce the speed limit to ensure safety When the power going low . You can see more accurate residuals and possible mileage by APP.
Lock mode
1) Press the shutter button to lock the car (when the PTZ camera is not installed, the shutter button factory default is set to lock the car and unlock the Scooter.) 2) you can lock the scooter by app . when the scooter been connecting to the app . it will be safe .it will be alarm if others touch it . can not lock when riding .
Package List:
1 * Xiaomi Ninebot Plus Self-balancing Scooter
1 * AC Cable
1 * Adapter
1 * Remote Control
1 * Control Lanyard
1 * Control Charging Cable
1 * Foot Controller
1 * Foot Controller Cover
1 * Wrench
1 * Air Faucet
2 * M5 Screw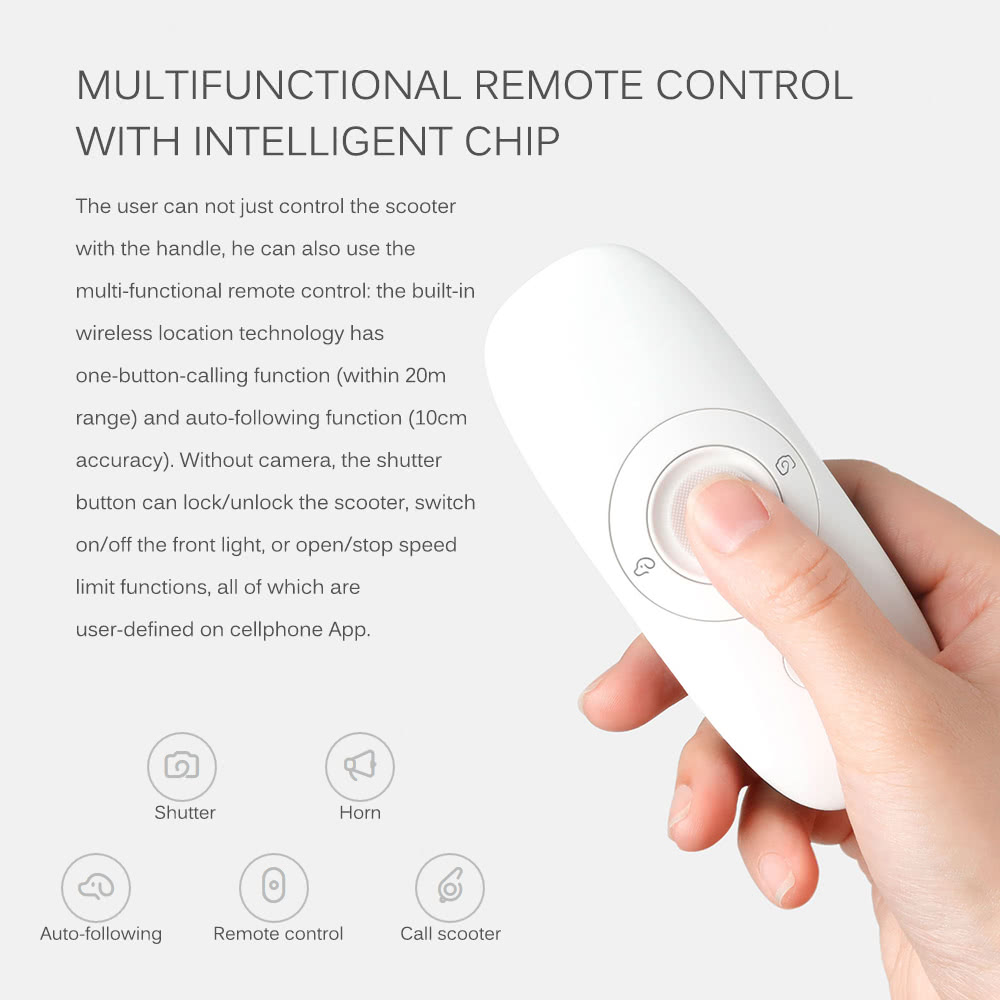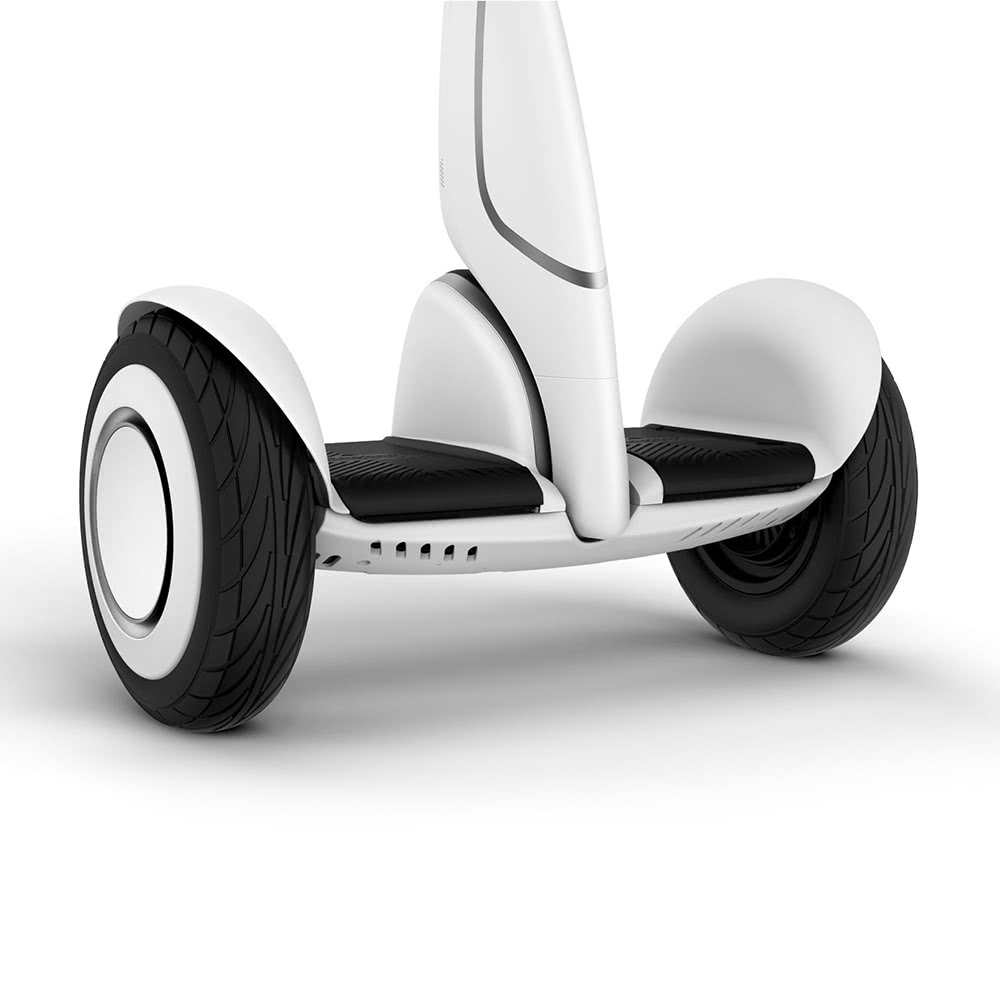 \
User Manual
Reviews