SWEGWAYFUN : UK TOP RATED & UL2272 CERTIFIED
6 GREAT REASONS TO BUY FROM US
Description
UL/Safety
Reviews
Do you have a need for speed, to drift, to go fast and furious, then you need the ultimate driving experience....
The next generation of Gokart is finally here!!
BOLT 
ORDERS WILL BE SHIPPED ON OR AFTER THE 11/06/2019
UNLIKE THE NINEBOT GO KART WHICH IS PRICED AT £1299 FOR THE COMPLETE KIT, THE BOLT KART IS ONLY £799 FOR THE SCOOTER + KART KIT! 
GO KART COMPARISON CHART
| | | |
| --- | --- | --- |
| FEATURES | Ninebot Gokart Kit | Bolt Gokart Kit |
| | | |
| Price  | £1299.99 | £759.99 |
| Available colour | White | White , Black , Pink , Red , Blue |
| Adjustable  |  YES : Steering wheel & Seat |  YES : Steering wheel & Seat |
| Length x Width | After extension (Max status): 54×32×24 in (1383×822×600 mm); before extension (Min status): 40×32×18 in (1004×822×459 mm) | After extension (Max status): 54×32×24 in (1383×822×600 mm); before extension (Min status): 40×32×18 in (1004×822×459 mm) |
| Max Weight | 100 kg | 120 kg |
| Bluetooth Speaker for music | | |
| APP | YES | YES |
| Power | 320W | 400W |
| Maximum Speed | 15 mph (24km/h) | 20 miles (32 km/h) |
| Maximum Range | 10 miles  | 15 miles |
| Max. Climbing Angle | 15o | 15o |
| Charging Time | 4 hours | 4 hours |
| Recommended age | 8+ | 8+ |
| Steering ratio | 2.1:1 | 2.1:1 |
| Ground clearance | 1.6 in (40 mm) | 1.6 in (40 mm) |
| Traversable Terrain | Hardened road, flat road surface, slopes below 15° | Hardened road, flat road surface, slopes below 15° |
| IP rating | IPX4 | IPX4 |
| Headlight | YES | YES |
| Braking method | Electronic brake + mechanical handbrake | Electronic brake + mechanical handbrake |
| Warranty | 1 year waranty | 2 year waranty |




Electric Scooter Detachable.  
Bluetooth Speaker
Adjustable  
Made to Drift
Reversible
   APP Control.  
 Height Range: 4'5" to 6'3"
Max Load 220lbs

Be ready to experience the coolest Electric Gokart ever with innovated technology, a drifting machine with 2 motors( Max.800w), accelerates from 0-12 mph within 2 seconds.

Why have just one fun product to ride when you can have two? Bolt 2 in 1 Smart Electric  Go Kart Kit is the coolest  Electric Rideable ever!!!  Now you can ride your electric scooter standing upright or quickly convert into a 20mph Electric Kart with 3 speeds and Reverse Gear!


When it comes to performance, the Bolt Electric Gokart seeks for vehicle benchmarks beyond gokarts. The Gokart can sprint from 0 to 12mph within seconds, which matches or even outpaces the acceleration of many automobiles on the market that is well known for their outstanding performance. 

The Bolt Electric Gokart features a mechanical handbrake. In the unlikely event that the electric brake fails, the handbrake can be used to stop the vehicle abruptly.
The handbrake is much more than a mere braking alternative to the foot brake. The Bolt Electric Gokart  similarly with the Ninebot Kart are the first gokart in the karting history that is made to drift with an equipped handbrake. Once they get familiarized with riding the Gokart, riders can challenge themselves with the drifting tail by making use of the handbrake.

The Bolt Electric Gokart was designed with an adjustble frame and steering wheel to fit riders between 4' 5" to 6' 3" (130 cm - 190 cm). The Gokart has a maximum payload of 220 pounds (100 kg).


The adjustable frame makes the Bolt Electric Gokart suitable and playable for people of different ages. You can create memorable experiences by driving the Gokart alongside with your family.

The Bolt Electric Gokart has a steering ratio of 2.1:1, allowing for precision steering and the ability to make the very tight turns.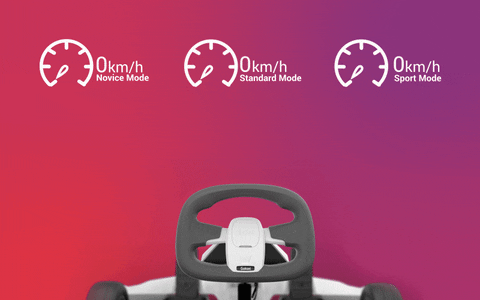 The Bolt Electric Gokart comes with three driving modes for riders to choose based on their expertise. Novice mode has a top speed of 5 MPH (8 km/h), the Standard mode has a top speed of 10.8 MPH (18 km/h), and Sport mode has a top speed of 15 MPH (24 km/h).

Since the Bolt Gokart has been designed for both children and adults, we want to make sure its being driven at a safe speed for everyone. Parents have the ability to limit the top speed of the Gokart for child riders. 

The battery life of the Bolt Electric Gokart varies across the different driving modes, with a maximum range of 12.4 miles (20 km). It takes about 3.5 hours to fully charge the battery.

Unlike most gokarts, the Bolt Electric Gokart comes equipped with the ability to go in reverse. Once at a complete stop, quickly tap the brake pedal twice and the gokart is now in reverse. When stopped, tap it twice again to go back to forward.

The Bolt Electric Gokart is collapsible to fit in most trunks, allowing you to take it wherever you want to go.

Connect your Gokart to the app via Bluetooth to display driving speed, cruising range, and fault reminders of the Gokart in real-time. You can also access the new rider tutorial, control lighting, set driving modes, update firmware, and more.

 With our commitment to product development and manufacturing, every aspect of the Bolt Gokart was meticulously designed and developed to ensure a high-quality product.

The Bolt Electric Gokart Bundle comes with the Gokart Kit and a Electric 320w scooter. The Gokart Kit contains a steering wheel, seat, front bumper, and front wheels. The Gokart Kit is fitted over the 320w scooter, which functions as the rear wheels and powertrain for the Gokart.


What does it mean to be UL Listed?
" UL Listed means that UL has tested represented samples of the product and determined that it meets UL's Requirements. These requirements are based primarily on UL's published and nationally recognized Standard for Safety. References to UL and the UL listing may include the UL Listing Mark." –Underwriter Laboratories
Tests SwegwayFun's Hoverboard went Through
Overcharge Test
Short Circuit Test
Over discharge Test
Temperature Test (Determines the failure temperature of a product.)
Imbalanced Charging Test
Dielectric Voltage Test
Isolation Resistance Test (Testing Isolation Transformer.)
Vibration Test
Shock Test
Crash Test
Drop Test
Mold Stress Test
Water Exposer Test
Thermal Cycling Test (Testing the effects of extreme differential temperature change.)
Label Performance Test (Comparing products against other leading brands.)
Strain Relief Tests
Motor Overload Test
Motor Locked Rotor
20mm End Product Flame (Test that determines flame resistance.)
About UL
UL is an international science safety company whose goal is to insure safety to consumer's products. UL was founded in 1894 and in 1903 developed the first standard for safety. In 1913 changed building construction by improving construction standards of walls. In 1921 UL Certified First Refrigerator. Tests range from shock hazard to the ability of small kids being able to open it from the inside. In 1923 UL certified the first Burglary-resistant Safe. 1930 UL certified the first Automatic Dish Washer. 1937 UL certifies the first washing machine. 1939 UL certified the first black and white TV. 1940 UL certifies the first vending machine. 1966 UL certified the first seat belt. In 1975 UL developed the Federal Television Standard in response to 10,000 reports of TV Tube fires. 1978 UL certified the first personal computer. In 1988 UL certified the first bullet resistant vest for police.(*** This data was found on the UL website, http://www.ul.com/aboutul/history/***)
MEDIA AND PRESS
The segwayfun Hoverboard has been featured by many TV shows, news outlets, magazines, and blogs.