Secure ordering
Pay with the worlds most secure payment provider.
100% satisfaction
If you are not 100% satisfied, return the product for a full refund*
next working Delivery
FREE & fast Next day Delivery if ordered before 2PM
UK Customer Support
We are a UK Company with British Values. For customer support, please call 01474247760
NINEBOT ONE HERE IN THE UK
The Ninebot One S2 is the latest Electric Unicycle release from Ninebot.  Step on this versatile vehicle and the fun won't stop.  The S2 is a 14 inch wheel instead of a 16 inch wheel which the C+ and E+ are and combined with other advances makes it 4kg lighter in weight at approx 11.4 kg making it easier to carry for maximum portability.  The S2 also includes a 2 year warranty.

The maximum speed of the S2 can reach 24 Km/h, when the battery charge is low a speed limit is activated to ensure your safety.  The maximum range is 30 Km but this will vary depending on the user's weight, ambient temperature, road conditions and other factors.

The Ninebot One S2 now features the unique blank-canvas design which allows you to free your imagination by letting you customise your wheel with creativity - labels, graffiti, paint, it's your choice.   Ninebot One S2 provides thousands of dazzling lighting effects, which can be set as required via the Ninebot app on your smartphone and also shows the battery status with different colours.

The electrical components of the Ninebot One S2 are hermetically sealed which provides IP54 rated protection against harsh environments such as rain and mud and will cope with 15˚ slopes, narrow roads, gravel surfaces, rugged surfaces and grass.

New to the Ninebot One S2 are dual battery compartments which means it is equipped with two batteries, one on the left side and one on the right.  The S2 will still function on just one battery if it suits your speed and mileage requirements.  On a single battery the maximum speed is 18 Km/h with a maximum mileage of 15 Km and brings the weight down to approx 10.5 kg.

The Smart Battery Management System (BMS) monitors the status of each battery cell to minimise faults guaranteeing the battery is safe and protected.  The features work in conjunction with a power-off mode that includes an alarm function.

The output power of the Ninebot One S2's motor can reach 500W and using Ninebot's advanced sine wave inverter technology the max speed tops out at an impressive 24 Km/h.  Imported high-rate batteries can take you to to 30 km.  The body of the wheel is slim at only 18 cm thick.
Smart management of the S2 can be achieved by connecting the S2 to your phone via Bluetooth where you can view riding conditions, Instrument panel, vehicle parameters, diagnose faults and configure personalized settings and perform firmware updates.  There is also a social network including riding partners and ranking plus a novice tutorial.

Features:
Alarm and deceleration upon speed limit
Low battery protection
Smart Battery Management System (BMS)
Power-on security check
Pick up and stop protection
Anti-skid/explosion proof tire
Load limit
Disaster recovery design
High safety margin
Novice mode on app
2 year warranty
​
​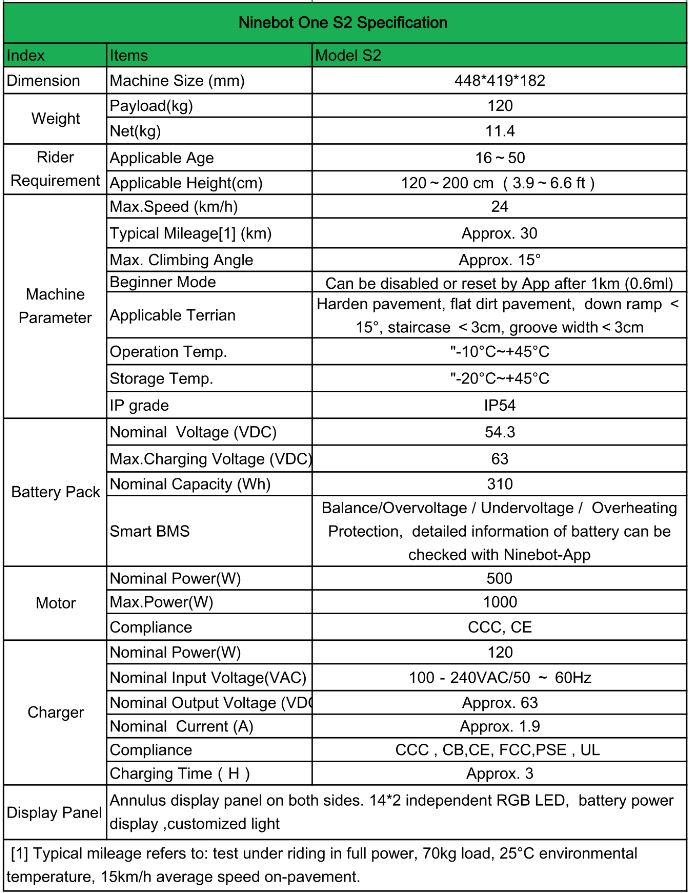 ​
WHY BUY FROM SEGWAYFUN?
1. We are a UK Company
2. We hold UK Stock
3. We give a 2 year warranty (Including the battery! More than anyone else)
WHAT COMES IN THE NINEBOT ONE BOX YOU ASK?
1. Ninebot ONE S2 (as pictured)
2. Charging Block with multiple cables (including UK)
3. 2 Reels of foam and a roll of sticky back tape to help in the early stages to protect your Ninebot One
4. Manual
5. Warranty Card (2 Years!)

UK Legality - Official government advice is to ride these on private land (with the landowners permission only), although we are not aware of any riders being prosecuted for riding an Electric Unicycle on pavements or road and it seems to be a grey area (being a single wheel) nor are we legal experts in this regard. Still concerned? Then seek independent legal advice. Of course you must ride responsibly as always - you are not a superhero - although you will feel like one!


What does it mean to be UL Listed?
" UL Listed means that UL has tested represented samples of the product and determined that it meets UL's Requirements. These requirements are based primarily on UL's published and nationally recognized Standard for Safety. References to UL and the UL listing may include the UL Listing Mark." –Underwriter Laboratories
Tests SwegwayFun's Hoverboard went Through
Overcharge Test
Short Circuit Test
Over discharge Test
Temperature Test (Determines the failure temperature of a product.)
Imbalanced Charging Test
Dielectric Voltage Test
Isolation Resistance Test (Testing Isolation Transformer.)
Vibration Test
Shock Test
Crash Test
Drop Test
Mold Stress Test
Water Exposer Test
Thermal Cycling Test (Testing the effects of extreme differential temperature change.)
Label Performance Test (Comparing products against other leading brands.)
Strain Relief Tests
Motor Overload Test
Motor Locked Rotor
20mm End Product Flame (Test that determines flame resistance.)
About UL
UL is an international science safety company whose goal is to insure safety to consumer's products. UL was founded in 1894 and in 1903 developed the first standard for safety. In 1913 changed building construction by improving construction standards of walls. In 1921 UL Certified First Refrigerator. Tests range from shock hazard to the ability of small kids being able to open it from the inside. In 1923 UL certified the first Burglary-resistant Safe. 1930 UL certified the first Automatic Dish Washer. 1937 UL certifies the first washing machine. 1939 UL certified the first black and white TV. 1940 UL certifies the first vending machine. 1966 UL certified the first seat belt. In 1975 UL developed the Federal Television Standard in response to 10,000 reports of TV Tube fires. 1978 UL certified the first personal computer. In 1988 UL certified the first bullet resistant vest for police.(*** This data was found on the UL website, http://www.ul.com/aboutul/history/***)
UK Delivery - Our FREE UK Next Working Day Delivery Offer
Cancelling Your Order
If you change your mind after placing an order and your goods have not yet shipped, you may be able to cancel your order. Please email us immediately at info@segwayfun.uk, quoting your order number and stating your wish to cancel your order.
If you have already received your order, you will need to return all the items in the order, please read the below section titled "Returns - Changed Your Mind".
PLEASE CLICK HERE TO DOWNLOAD RETURM FORM
Returns - Damaged & Faulty 
If you have received an item that is damaged, is not what you ordered, or is missing parts, then please email us immediately at info@segwayfun.uk
.
Include photographs of the issue before returning any goods so we can discuss the best action to take.

Faulty electric scooter - within 14-days of receiving
If your electric scooter develops a manufacturing fault through normal use (as outlined in the manufacturer's manual) within 14-days of receiving the goods, then please email us at info@segwayfun.uk, quoting your order number, attaching a photo of the electric scooter and the fault details. You can let us know whether you want a refund, repair or replacement. We will arrange collection and cover the costs for collecting, repairing and returning the electric scooter to you.
Faulty electric scooter - after 14-days of receiving
If your scooter develops a fault after the initial 14 days period you will need to contact the manufacture and make a warranty claim. Please note the warranty period will vary by scooter.
If you cannot find warranty information please get in touch and we will point you in the right direction.
Please note that, we cannot accept electric scooter returns:
without all original packaging and accessories, including the retail box, manuals, cables, charger and all other items originally included with it (we can provide a new box at a cost of £25).
if the electric scooter has been damaged through miss-use or shows signs of being tampered, customised, or altered in any way.
is in any condition that we deem renders the item unsaleable.
All electric scooters purchased directly from our website will fall under our full warranty policy. We offer 12-month warranty as standard and full refunds or replacement if your item arrives unusable or defective. Warranty covers internal computerised part of the board, namely the microchips/motherboard. Battery, Bluetooth and LED lights are NOT covered.
All faults must be reported within 48 hours of receipt of product for repair or exchange. Any faults reported after 48 hours of delivery confirmation will need to be inspected by our technicians before a decision on warranty claim can be made. This can take up to 10 working days.
NOTE: WARRANTY DOES NOT COVER WATER OR CRASH DAMAGE. If the exterior of your electric scooter is damaged or the internal seals are broken your warranty is void. We can quickly and easily see where an electric scooter has been crashed due to scratches on the body of the scooter. Crash or accidental damage isn't covered under warranty repairs. You will be liable to pay the shipping costs to return your electric scooter back to us if the damage isn't covered under warranty. This total cost is £17.98. We will quote for repair costs once our technicians have conducted diagnostics on your electric scooter.
If the electric scooter comes back to us reported faulty and it just needs recalibrating, you will be liable for postage both ways at least but not limited to £19.99.
Returns - Changed Your Mind
If you change your mind about your electric scooter and you no longer want it, then you will need to email us at info@segwayfun.uk within 14 days of receiving your order. You then have a further 14 days from the date you notified us, to return the goods to us. Restocking fee may apply.

When you contact us about your returns, you will need to provide us with your order number, reason for returning and a contact telephone, in the event we need to call you.

Please note that we may make a deduction from the refund amount for the loss of value of any good supplied if the loss is the result of unnecessary handling by you.  You can examine the goods as you would in a shop but to obtain a full refund, the goods must be returned in "as new" condition and in their original packaging.  If you have mislaid the original packaging for an electric scooter, we can provide a new box at a cost of £25.

Naturally, none of this affects your statutory consumer rights.

You will need to return the electric scooter to us at:
SWEGWAYFUN RETURN DEPT 
C14 LION BUSINESS PARK 
DERING WAY
GRAVESEND
DA12 2DN

Return in person
Please let us know via email ( info@segwayfun.uk) if you intend to return the electric scooter in person, so we can agree a time / date and are ready for the collection. Please bring with you your order number. We cannot accept returns in person unless agreed prior with our customer service team.

Customer returns via post
You will be responsible for paying for your own delivery costs for returning an unwanted item, unless it has a manufacturer fault (see above section - "Returns - Damaged & Faulty").
It is strongly advisable, when returning an unwanted electric scooter to use tracked delivery to ensure its arrival. Please make sure you include in the box a copy of your name and order number, so we know who it was from.

Collection from your address
Please email us at info@segwayfun.uk with the following details to arrange a collection:
Your full name and collection address including postcode
Order number and confirmation of which product is coming back to us
Your preferred date of collection (Monday to Friday only)
A contact number in case the driver needs to get in touch
There is a £17.99 charge for this collection service that will need to be paid at the time of booking the collection. Please note, we cannot accept electric scooter returns without all original packaging and accessories, including the retail box, manuals, cables, charger and all other items originally included with it.
We can provide a new box at a cost of £25. Any extra costs (e.g. new box, collection cost) will be deducted from your refund payment amount.

Refund payment
We will refund you to your original payment method (i.e, card, Paypal account etc) within 14 days of receipt at our Returns Centre. Please be aware this can take up to 5 days depending on your bank.
Recently Viewed Product
You can manage this section from store admin as describe in above section