SWEGWAYFUN : UK TOP RATED & UL2272 CERTIFIED
6 GREAT REASONS TO BUY FROM US
Description
UL/Safety
Reviews
Segway - Ninebot ES4 High Performance:
8-Inch Front and 7.5-Inch Back tires

up to 28 Mile Range

19 mph Top Speed

Cruise Control

Mobile App Connectivity
The ES4 KickScooter kicks the ES2's performance up a notch delivering more speed and enhanced range while still being fold-able, light, and portable. It caters to commuters and recreational riders looking for an extra edge. 
ES1 and ES2 models shown in the video above
KICKSCOOTER COMPARISON CHART
FEATURES
ES1
ES2
ES4
M365 Clone
Price from
£449.99
£549.99
£649.99
£399.99
Max speed mph
12.4
15.5
18.6
16.5
Max Distance miles
15.5
15.5
28
18.6
Battery Wh
184
187
374
280
Weight kg
11.2
12.4
13.6
11.4
Charging time hrs
3.5
3.5
7
4.5
Power nominal / peak
250 / 500
300 / 700
300 / 800
250 / 600
Max. Climbing Angle
10o
15o

15

o

15

o
Brakes
Electrical + Mechanical

Electrical + Mechanical

Electrical + Mechanical

Electrical + Mechanical + Disc

Shock Absorption 
Front
Front + Rear

Front + Rear

N/A
App
YES

YES

YES

YES

Front tire inch

8
8
8
8.5
Rear tire inch
7.5
7.5
7.5
8.5
LED Screen

Speed + Battery indicator

Speed + Battery indicator

Speed + Battery indicator

Battery indicator

Visibility

Headlight + Rear Reflector

Headlight + Rearlight

Headlight + 

Rear light

Headlight + 

Rear light
Water resistant IP
54
54
54
54
Rec...height

120-200

120-200

120-200

120-200

Dimension(LxWxH)

Unfolded: 102 x 43 x 113 cm
Folded: 113 x 43 x 40 cm

Unfolded: 102 x 43 x 113 cm




Folded: 113 x 43 x 40 cm

Unfolded: 102 x 43 x 113 cm
Folded: 113 x 43 x 40 cm
Unfolded: 108 x 43 x 114 cm
Folded: 108 x 43 x 49 cm
Warranty
1 year warranty
1 year warranty
1 year warranty
2 year warranty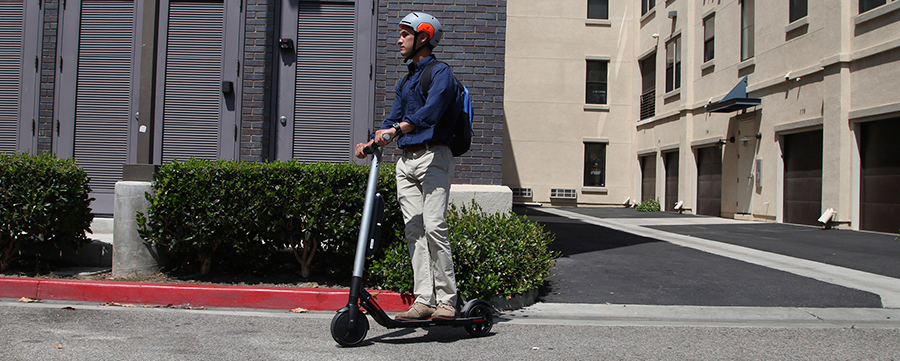 Features

Electrical Brake with anti-lock brake system, and ergonomically designed Mechanical Brake

LED Display shows driving speed, Bluetooth connection, power mode, and battery level

Cruise Control for convenient longer distance traveling

Ambient Light match the ambient lighting color to your personal style and taste

Front and Rear Wheel Shock Absorption provides maximum rider comfort

LED Front and Rear Lights be seen and stay safe in low light conditions

UL 2272 Certified, See user manual for all certifications

Bluetooth Connectivity, Bluetooth remote control and firmware upgrades via Ninebot App

Easy to Store Lightweight and foldable for easy storage

  
Ride Faster & Travel Further

The Ninebot KickScooter by Segway (ES4) can go up to 19 mph  and travel up to 28 miles*. Its rear shock absorption ensures a comfortable ride and the customizable ambient and rear lights are not only fun, but allow riders to be seen in low light.




Lightweight & Foldable

The one-click folding system allows this lightweight electric KickScooter to be transported mass transit, stored in your car and more. It effortlessly goes anywhere.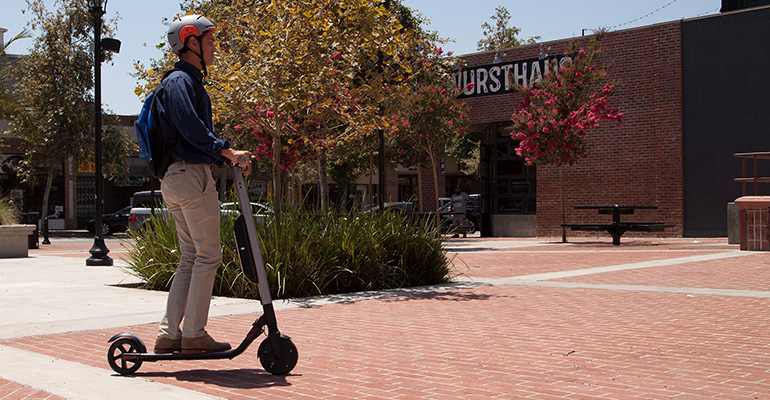 The Ninebot by Segway KickScooter ES4 accelerate to 18.6 Mph, has front and rear wheel shock absorption and solid tires, which allow for maximum rider comfort. With the help of the customizable ambient lights the vehicle is stylish and visually appealing. The vehicle weighs only 36 lbs and when folded it can easily be stored in a car or carried on public transport.

The cruise control mode is convenient for longer distance traveling. The Eco-friendly energy recovery system ensures no power goes to waste, while the Smart Battery Management System closely monitors battery efficiency.

What does it mean to be UL Listed?
" UL Listed means that UL has tested represented samples of the product and determined that it meets UL's Requirements. These requirements are based primarily on UL's published and nationally recognized Standard for Safety. References to UL and the UL listing may include the UL Listing Mark." –Underwriter Laboratories
Tests SwegwayFun's Hoverboard went Through
Overcharge Test
Short Circuit Test
Over discharge Test
Temperature Test (Determines the failure temperature of a product.)
Imbalanced Charging Test
Dielectric Voltage Test
Isolation Resistance Test (Testing Isolation Transformer.)
Vibration Test
Shock Test
Crash Test
Drop Test
Mold Stress Test
Water Exposer Test
Thermal Cycling Test (Testing the effects of extreme differential temperature change.)
Label Performance Test (Comparing products against other leading brands.)
Strain Relief Tests
Motor Overload Test
Motor Locked Rotor
20mm End Product Flame (Test that determines flame resistance.)
About UL
UL is an international science safety company whose goal is to insure safety to consumer's products. UL was founded in 1894 and in 1903 developed the first standard for safety. In 1913 changed building construction by improving construction standards of walls. In 1921 UL Certified First Refrigerator. Tests range from shock hazard to the ability of small kids being able to open it from the inside. In 1923 UL certified the first Burglary-resistant Safe. 1930 UL certified the first Automatic Dish Washer. 1937 UL certifies the first washing machine. 1939 UL certified the first black and white TV. 1940 UL certifies the first vending machine. 1966 UL certified the first seat belt. In 1975 UL developed the Federal Television Standard in response to 10,000 reports of TV Tube fires. 1978 UL certified the first personal computer. In 1988 UL certified the first bullet resistant vest for police.(*** This data was found on the UL website, http://www.ul.com/aboutul/history/***)
MEDIA AND PRESS
The segwayfun Hoverboard has been featured by many TV shows, news outlets, magazines, and blogs.